Ranging vastly from Chris Froome's Tour de France triumph to Henrik Stenson's victory in the The Open golf championship and Andy Murray achieving his second Wimbledon championship, 2016 has most definitely proven to be a standout summer of sport. As England continue to reign supreme against both Sri Lanka and Pakistan in one day international and test cricket respectively, their success has only been further matched on the track as Lewis Hamilton edges ever closer to his fourth Formula One world championship. And although the same cannot be said about Roy Hodgson's England team after an incredibly disappointing Euro 2016 campaign, culminating in a calamitous collapse against underdogs Iceland, it was for this very reason which not only seemed to widen the sports appeal  but also adding to a summer of sport filled with enough shocks, scares and surprises to last a lifetime. Yet as Portugal's celebratory coronation of confetti eventually stopped falling, before the dust could even settle on their accomplishments the attention has quickly turned to the next major (and arguably most important) event in the sporting calendar – The 2016 Olympic Games.
Now if you are anything like me, a self-confessed football fanatic, despite the diverse array of sports on offer which boast some of the world's finest sportsmen and women available at the click of a button to watch, stream and follow from this year's Olympics in Brazil, at first glance the competition itself both reduces and restricts the usual abundance of coverage marking the start of the 2016/17 Premier League season. Nonetheless the continued growth of the Olympic football competition does however provide an added incentive for football fans. With more and more Premier League players competing in each Olympic Games, the days of merely dismissing its role in the Olympics as a glorified youth competition on the world's biggest stage are long gone. Instead to the everyday fan of domestic football across the world, the competition itself can now have major ramifications at a domestic level more so than previously with the divide between Olympic and domestic football becoming even closer.
Could a players performances lead to a subsequent transfer? Will their value increase or decrease based on their contribution in the tournament? Are they able to avoid an injury? Whilst these are just a some of the several questions and perhaps worries of the domestic football fan heading into the Olympic Games, the question meanwhile remains as to which Premier League footballers made the tough decision between club and country and to which set of fans they would therefore let down this Summer. @ASelbyInfo takes a look at five Premier League players we can expect to see and who we should watch out for during the Rio 2016 Olympic football competition.
1) Takuma Asano (Japan // Arsenal)
Described by Arsenal manager Arsene Wenger as 'a talented young striker and very much one for the future' after completing a move to the North London side in early July 2016, perhaps this could be first glimpse of what the Japanese forward has to offer. The former J-League Rookie of the Year looks set to lead the line for Japan throughout the competition and should he hit the ground running with goals against group rivals Nigeria, Sweden and Colombia, he may well force his way into Arsene Wenger's plans and earn himself a greater role in an Arsenal side very much focused on the future.
2) Gabriel Jesus (Brazil // Manchester City)
Recognised as one of South America's rising stars, the 'best newcomer' in the 2015 Serie A Campeonato Gabriel Jesus proved to be another piece of Pep's masterplan at Manchester City after completing a lucrative move to the Etihad Stadium, thought to be in the region of £27m. Whilst his club record of 26 goals in 67 first team games for Palmeiras certainly looks promising, meanwhile his progression through u20 and u23 youth levels shows the desire needed to progress at the highest level. On home soil playing alongside the likes of the once rising star Neymar and Lazio's Felipe Anderson, the Olympic Games are set to be a true test of Jesus' character and comparisons to the legendary and prolific striker Ronaldo.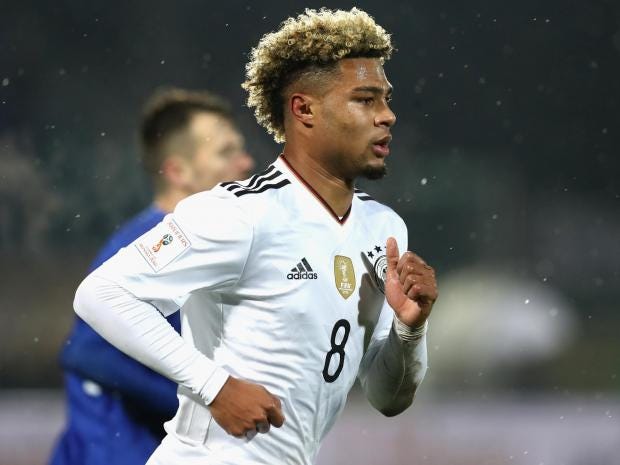 3) Serge Gnabry (Germany // Arsenal)
Unlike Asano, Serge Gnabry however is no stranger to both Premier League and English Football in general following a loan-spell to West Bromwich Albion during the 2015/16 season and also as part of Arsenal's youth setup since the 2011/12 season. Yet despite leaving on loan to gain first-team experience, after only a handful of appearances for both clubs his start in professional football has been somewhat stuttered. Still, at the age of 21 and as part of a national team renowned for achieving the very best from their young players, both Arsenal and Serge Gnabry himself will be hoping that the Olympic Games can be the platform needed for the hot prospect to reach his full potential.
4) John Obi Mikel (Nigeria // Chelsea)
After a decade at Chelsea, with talks over a possible departure following the arrival of N'Golo Kante from Leicester City, John Obi Mikel may yet earn himself a lucrative move away with a successful Olympic Games. At the age of 29, Obi Mikel is set to captain Nigeria and joins the Super Eagles as one of the over-23 players allowed at each Olympic football tournament. Although whether or not the veteran stays at Chelsea and fights for his place during the 2016/17 season remains to be seen, one thing for certain is that with a number of vintage Mikel performances throughout the tournament, he will have plenty of suitors this summer with the likes of Internazionale and Valencia already trailing his signature in a cut-price deal.
5) Heung-min Son (South Korea // Tottenham Hotspur)
For the cynics and anybody critical of the Olympic football competition, you need look no further than Heung-min Son, a player openly excited and enthusiastic not only about his country's chances in the competition but more so his eagerness to have a pivotal involvement in the tournament. As Son has said himself, for the 24 year old forward it is a very special occasion as his first time in the Olympic Games despite his public apology to Spurs fans for missing the first Premier League game of the season. Yet in the short-term, Mauricio Pochettino's loss is the wider footbaling world's gain and after a relatively successful first season in the Premier League, I look forward to seeing whether the South Korean star can take his club form into the Olympics and help fire his country to an Olympic gold.